16mm film: AMC Ambassador Wagon - 1970's TV ad raw production footage - RARE!!!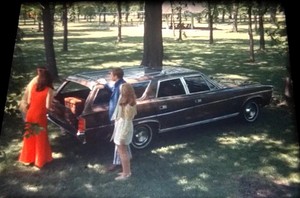 ---
16mm TV Network Lab Television Commercial Footage
AMC AMBASSADOR BROUGHAM WAGON RAW FOOTAGE FOR AD (1970's)
This is raw silent raw commercial network ad footage for the famed auto company during the early 1970's... this reel of film has some interesting footage of the automible itself... featuring some real nice shots of the Ambassador Wagon vehicle itself out in this one... very colorful and stylistic... and nostalgic... also includes some all-original animation... this appears to be a production print for editing...
And for those of you who collect AMC... you know this is truly a rare one to add to your collection... you do not see these type of outtakes come onto the scene to obtain very often... for these films were just NOT available to the public... and the fact that this particular roll of film is from the middle of the chain in the actual production of the ads themselves... makes this a super-rarity... get it now while you can... don't let it slip on by...
Not many of these turn up so happy bidding...  
About the print:
color silent print... about 2 minutes 30 seconds long...  
It is NOT on a reel OR a core... just the film itself...
NO vinegar smell and is NOT nitrate...
Condition: decent print that runs pretty smooth...   color is excellent...  but there is some very brief and minor water damage flashes that appear at random but also has some parts that are super clear... there are also spliced in black leader film between segments that lasts at various lengths...  sold AS-IS!!!!