Sheet XXV Woodcuts schedel World Chronicle 1493 #c062s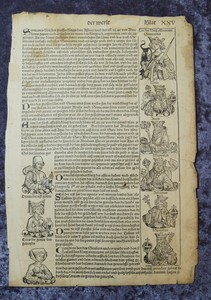 ---
  !!! WEITERE BÜCHER & HANDSCHRIFTEN IN UNSEREN AUKTIONEN !!! !!! MORE BOOKS & MANUSCRIPTS IN OUR AUCTIONS !!! Selten! Originales Inkunabel Einzelblatt mit Holzschnitten aus Schedel's Weltchronik - deutsche Ausgabe, gedruckt bei Koberger, Nürnberg 1493 A.D.Blatt XXVChronist:Hartmann Schedel (1440-1514)Schedel war ein deutscher Humanist und Historiker. Sein wichtigstes Werk ist die sogenannte Nürnberger Chronik, auch bekannt als Schedelsche Weltchronik aus dem Jahr 1493.Drucker/ Verleger:Anton Koberger (* um 1440 in Nürnberg; † 3. Oktober 1513 Nürnberg) war ein bedeutender deutscher Buchdrucker, Verleger und Buchhändler der Inkunabelzeit.Beschreibung:Die Schedel'sche Weltchronik ist ein bedeutendes Zeugnis deutscher Buchdruckkunst aus der Zeit des Spätmittelalters und mit etwa 2000 Holzschnitten das bildreichste Werk der Frühzeit des Buchdrucks. Michael Wolgemut begann 1487 zusammen mit Wilhelm Pleydenwurff, seinem Schwiegersohn, mit den Entwurfsarbeiten zu den Holzschnitten. Auch Beiträge des jungen Albrecht Dürer sind wahrscheinlich, der bis 1490 bei Wolgemut in die Lehre ging.Wir bieten Ihnen ein dekoratives Einzelblatt mit Holzschnitten an. Blatt ca.:40,5 x 29,5 cm Zustand:
etwas fleckig und gebräunt, kleine Randdefekte, sonst guter Zustand
insgesamt dennoch noch brauchbarer Zustand und imposantes Exemplar der Inkunabelzeit
Sehen Sie sich die Bilder an!
 Kombiversand ist möglich mit nur 1x Portoberechnung ! Bitte beachten Sie, alle Einzelteile die versteigert werden sind echt, wir verkaufen keine Reproduktionen. Ein Echtheitszertifikat (COA) kann auf Wunsch ausgestellt werden! ________________________________________________________________________________________________
Rare! Original incunabulum single-leaf with woodcuts out of the Schedel's Chronicle of the world, German edition, printed by Koberger in Nuremberg 1493 AD Leaf: XXVPrinter:Anton Koberger (* in 1440 in Nuremberg, † October 3, 1513 Nuremberg) was a German printer, publisher and bookseller of incunabula.Description: The Schedel's World Chronicle is an important reminder of German letterpress art from the late Middle Ages and with about 2000 woodcuts in the most picturesque work of the early time of printing. Michael Wolgemut began in 1487 with William Pleydenwurff, his son, with the design work to the woodcuts. Also contributions of the young Albrecht Dürer are likely, which went to 1490 with Wolgemut in teaching.We offer a decorative single Leaf with woodcuts. Hartmann Schedel (1440-1514)Schedel was a German physician, humanist and historian, one of the first cartographers to make use of the printing press. Schedel is best known for his writing the text for the Nuremberg Chronicle, known to Germans as Schedel's World Chronicle, published in 1493 in Nuremberg.Size:Leaf app.: 40,5 x 29,5 cmCondition:
slightly stained and brownish, defects in the margins
but allover in a reasonable condition
Please have a look at the pictures!
Combine shipping is possible with only 1x calculated shipping cost ! Please note all items auctioned are genuine, we do not sell reproductions. A Certificate of Authenticity (COA) can be issued on request.